(Note: this puzzle is like a Sunday Surprise with very high difficulty.)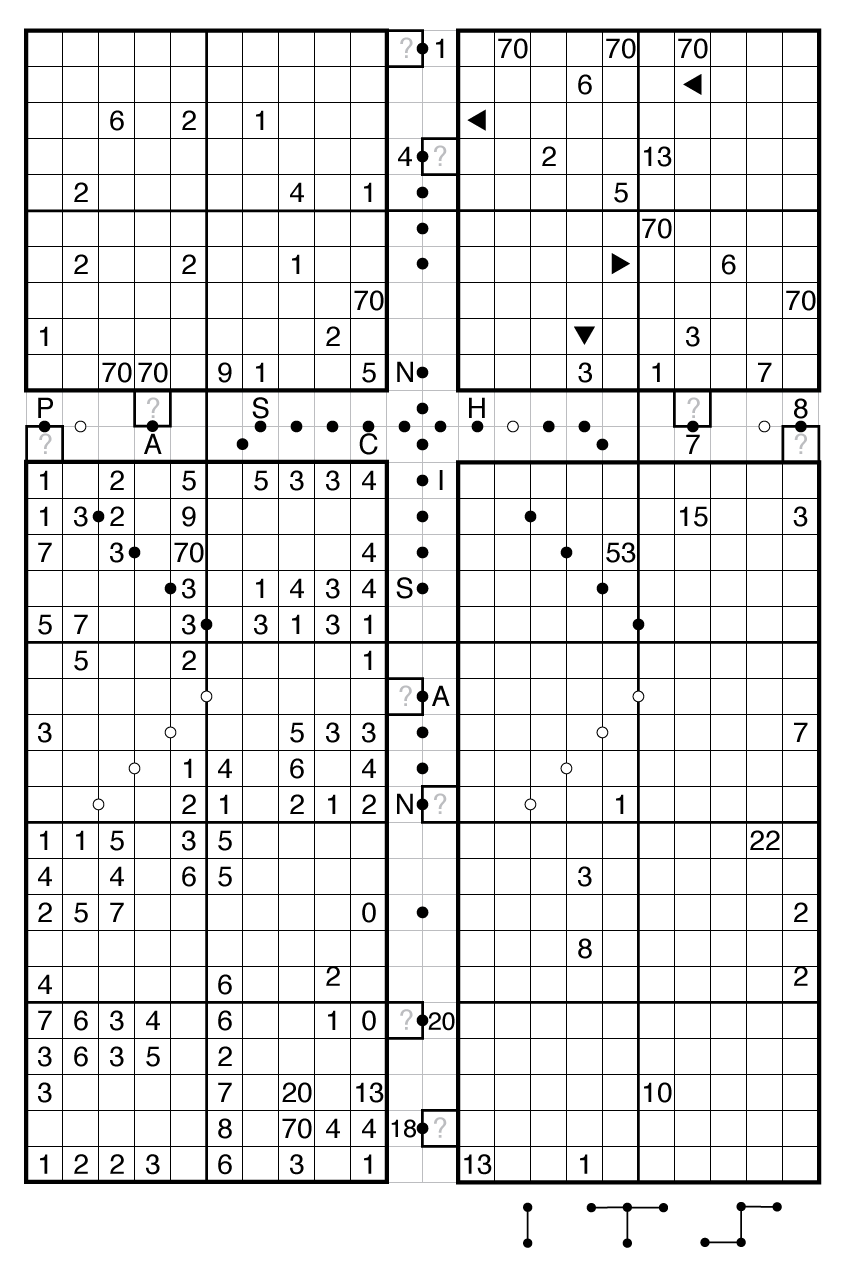 (view directly for a larger image)
Theme: 14 Nisan, 2018 (Pasch 5778)
Author/Opus: This is the 45th puzzle from our contributing puzzlemaster John Bulten.
Rules: See PDF link above for complete rules as well as a solvable example by Thomas Snyder.
Answer String: The solution string is 3 words in ABC order, in all capital letters and separated by commas. (There are a total of 28 letters in this string.)
Time Standards (highlight to view): No time standard (GM time > 2hr).
Solution: Answers for this week in this PDF.
Editor's Note: The giant grid here is one of the hardest puzzles we have ever presented. If I knew in advance John wanted to make a puzzle like this, I would have said no because of the combination of so many kinds of rules, new puzzle styles, and my expectation it would take hours to solve (and it certainly does!). But there is something inspirational about the elements brought together here by John, many unexpected Ahas that will cure the headaches you'll also get in the middle. While the giant puzzle was originally created to stand on its own, John added the four medium difficulty puzzles we posted earlier this week to introduce the four subgenres. Be sure to solve these as you prepare for this large test at the end of the week. -TS
Author's Note: Thanks to Thomas and Grant for encouraging me to construct new puzzle types. Thanks to patron Randy Rogers for requesting 4-grid combination puzzles, which sparked this idea. Thanks to Prasanna for his giant 11/29/15, 3/2/16, and 3/2/17 puzzles, which directly inspired this puzzle. Thanks to Serkan for inventing Light and Shadow, because whenever I tried experimenting with shading puzzles I found myself trying to reinvent Light and Shadow. Thanks to Izak for inventing Surf, which has more potential than either of us realize. Thanks to God for this day. -JB