[This is a repost from our archives with new notes at the top (original post here): The final puzzle of our first sixty set, this Fillomino takes advantage of several less common look-ahead steps to make progress towards the solution. While I hadn't constructed as many Fillomino before in my life, I learned a lot from this week of experimentation ten years ago and still find Fillomino to be a really rich style with a lot of distinct author styles to be found within it.]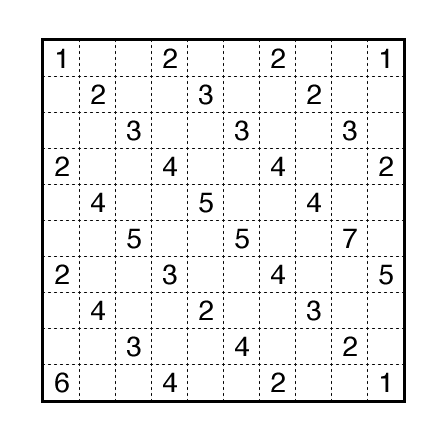 or solve online (using our beta test of Penpa-Edit tools; use tab to alternate between a composite mode for line/edge drawing and a number entry mode.)
Theme: Squeeze Play
Rules: Standard Fillomino rules.
Estimated Difficulty*: 4 stars
Time Standards (highlight to view): Grandmaster = 4:15, Master = 8:30, Expert = 17:00
Solution: PDF; advice on solving this puzzle was also posted in "Ask Dr. Sudoku #10"
Note: Follow this link for other classic Fillomino and this link for more variations on Fillomino puzzles. If you are new to this puzzle type, here are our easiest Fillomino puzzles to get started on.