[This puzzle comes from the 2022 US Sudoku Grand Prix round. Shape Sudoku is a variation I created many years ago where careful assignment of the givens to each of the shapes can lead to fun and narrow solving paths, so I really enjoy setting these kinds of puzzles. I had one big idea for the "eight" theme which you'll certainly see while working through to the solution.]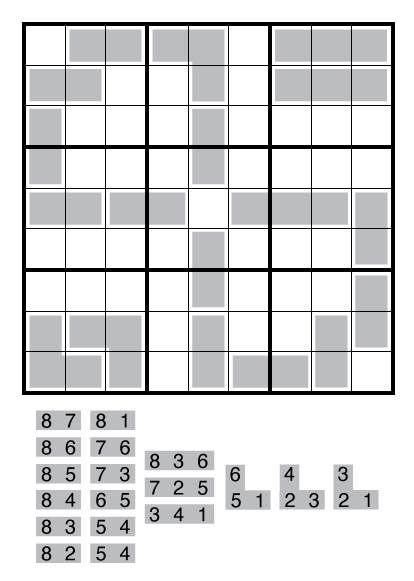 or solve online (using our beta test of Penpa-Edit tools; use tab to alternate between Sudoku number entry mode and a shading mode to manage the shape inventory.)
Theme: Big Eight
Author/Opus: This is the 436th puzzle from Thomas Snyder, aka Dr. Sudoku.
Rules: Standard Sudoku rules. Also, there are some numbered shapes that must be put into the grid. Shapes can be rotated, but cannot be reflected.
Estimated Difficulty: 4 stars
Solution: PDF
Note: Follow this link for other Shape Sudoku. More Shape Sudoku are in Masterpiece Sudoku Mix 8.