[This is a repost from our archives with new notes at the top (original post here): This snowflake shape was first made for the book Sudoku Masterpieces by me and Wei-Hwa Huang. While the six-linked-cube design is fairly limiting, and some of the region shapes are also quite constrained, the size of the puzzle will take a very observant solver to put all these considerations together and reach the solution.]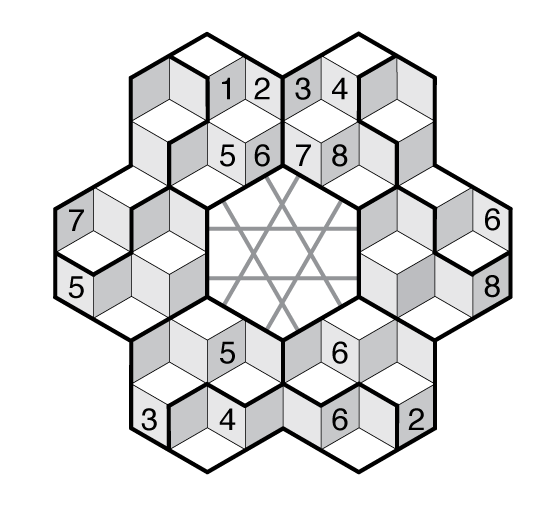 or solve online (using our beta test of Penpa-Edit tools)
Theme: Last snow of winter? This Snowflake Isodoku may not be the last snowflake to fall this winter, but it will be the last snow-based puzzle from us this year.
Rules: Standard Isodoku rules, using numbers 1-8. Some rows connect across the center of the shape by following the gray lines.
Estimated Difficulty*: 4 stars
Time Standards (highlight to view): Grandmaster = 5:15, Master = 9:00, Expert = 18:00
Solution: PDF
Note: Follow this link for other Isodoku. If you are new to this puzzle type, here are our easiest Isodoku to get started on.