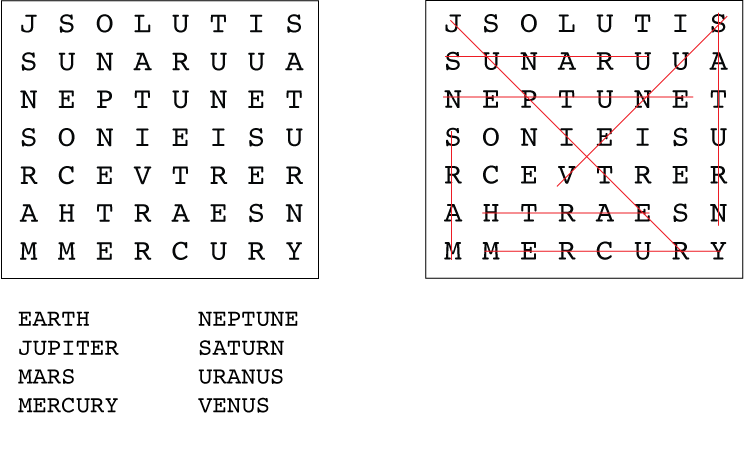 Rules: Locate the given words in the grid, running in one of eight possible directions horizontally, vertically, or diagonally.
Answer String: Varies by puzzle. There may be an unused word or a message hidden another way to discover related to the puzzle. Enter this word/message, in ALL CAPS and without spaces or other punctuation. This example has the key "CERES".
(Brief) History of Word Searches: Descended from observational puzzles. The American word search was first published in 1968 in the Selenby Digest in Norman, Oklahoma. The original creator was Norman E. Gibat. (Note: puzzles in Spanish called "Sopas de letras"/"Soup of Letters" were created earlier but were unlikely to have influenced Gibat.) The idea circulated slowly until finally picked up by some newspaper syndicators. Word Searches are now in most major newspapers and puzzle magazines.
History of this example: This planetary word search was written for a puzzle seminar by Thomas Snyder soon after the demotion of "Pluto" as a planet.
Other sources: More Word Search puzzles can be found from a variety of sources, including some future publications from Grandmaster Puzzles.
Design rules for contributors: A Grandmaster Word Search will have a unique solution that can be reached by observation alone. Words should be interlinked (cross at letters) and a large majority of the letters in the grid should be crossed by words. The words should be linked thematically, although the word list need not be provided. Standard variations, including missing letters, rebus clues, or bending words, are also encouraged.