[This is a repost from our archives with new notes at the top: We continue our start to 2023 by looking back at our site's initial puzzle weeks, which balanced Sudoku variations with the ten puzzle styles that would be in The Art of Puzzles. Puzzle #2 was a TomTom, a very special puzzle style to me given how much fun I had experimenting with it in 2009 as I took a mostly computer-generated genre to new places.]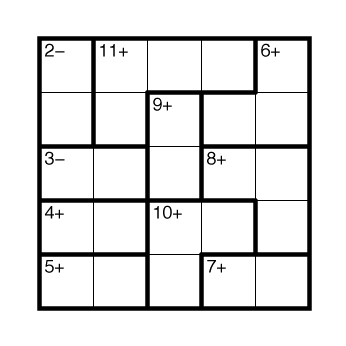 or solve online (using our beta test of Penpa-Edit tools)
Theme: "After #1, what's next?" Many people wondered what would come after post #1 yesterday. Today's TomTom puzzle is one literal answer, but who knows what the future actually holds?
Rules: Standard TomTom rules; use digits 1-5.
(Estimated*) Difficulty: 1.5 stars
Time Standards* (highlight to view): Grandmaster = 0:40, Master = 1:20, Expert = 2:40
Solution: PDF
Note: Follow this link for classic TomTom and this link for TomTom variations. If you are new to this puzzle type, here are our easiest TomTom to get started on. More TomTom puzzles can be found in our e-store, including in the TomTom collection, in The Art of Puzzles, and in our beginner-friendly collection Intro to GMPuzzles by Serkan Yürekli.
*This is trying to recreate our 2020+ type ratings but where our original testing process and number/identity of testers in 2013 was not the same as how we standardized later on in our first year. We've made a best effort to bring these historical data to current methodology because people asked for it, but your experience may vary and we aren't doing "new" testing to reconfirm these times.