[This is a repost from our archives with new notes at the top: As we focus more on website updates and other changes to GMPuzzles — more details to come — we're starting this year off by looking back at some of our earliest puzzles. Our first new construction when we launched in 2013 was a "Countdown to 2013" Sudoku. Enjoy it again — or for the first time — with digital solving options not available originally.]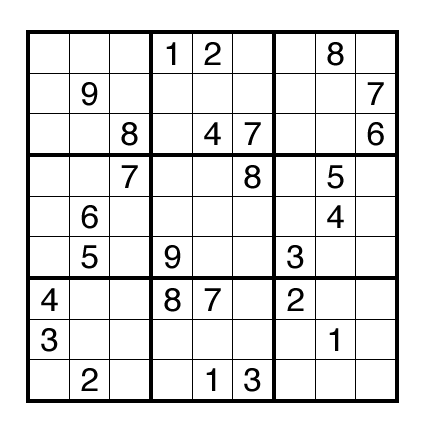 or solve online (using our beta test of Penpa-Edit tools)
Theme: Countdown to 2013 – this theme is primarily visual, unlike Dr. Sudoku's earlier Countdown sudoku theme here.
(Estimated*) Difficulty: 2.5 stars
Time Standards* (highlight to view): Grandmaster = 2:15, Master = 4:00, Expert = 8:00
Solution: PDF
Note: Follow this link for other classic Sudoku. If you are new to this puzzle type, here are our easiest Sudoku to get started on. More classic Sudoku puzzles can be found in our e-store, including in The Art of Sudoku, The Art of Sudoku 2 and in our beginner-friendly collection Intro to GMPuzzles by Serkan Yürekli.
*This is trying to recreate our 2020+ type ratings but where our original testing process and number/identity of testers in 2013 was not the same as how we standardized later on in our first year. We've made a best effort to bring these historical data to current methodology because people asked for it, but your experience may vary and we aren't doing "new" testing to reconfirm these times.