To enable our June reopening, Serkan Yürekli has stepped into a role as Managing Editor for the site. Serkan now oversees our puzzle submission and review process, assembles the web weeks, and has also brought new ideas for puzzle packet formatting, books, and other things you'll see as we re-launch. As one small example, while we have always had an escalating set of puzzle difficulties from Monday to Saturday, we are now going to try to put star ratings (out of 5) on all puzzles for more comparison across weeks. We're quite excited to have Serkan step into this larger role, and hope it increases the quantity of puzzles we can release without any change in the quality you have come to expect from GMPuzzles.
Enjoy this challenging Tapa (False) variation from Serkan as we count down the 8 days remaining.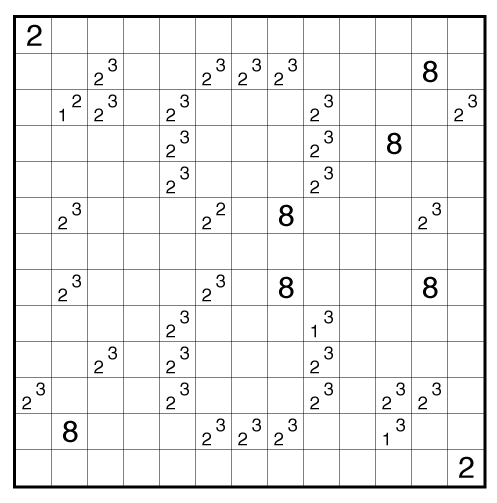 or solve online (using our beta test of Penpa-Edit tools; use tab to shift between shading mode and the composite Yajilin mode where left click marks cells, right click marks dots in cells or X's on edges, left click+drag draws lines.)
Theme: 8 (or 2 cubed)
Author/Opus: This is the 280th puzzle from our contributing puzzlemaster — and new managing editor — Serkan Yürekli.
Rules: Variation of Tapa rules. All clue digits are false and should be either one higher or one lower than the value given. (Note: Some corrected clue sets may be identical to their uncorrected versions, e.g. 1 2 becoming 2 1. Some corrected sets may contain zeroes, which have no effect on the remainder of the clue set.)
Solution: PDF
Note: Follow this link for other Tapa variations and this link for classic Tapa. If you are new to this puzzle type, here are our easiest Tapa puzzles to get started on. More Tapa puzzles can be found in The Art of Puzzles, in Tapa and Variations, and in our beginner-friendly collection Intro to GMPuzzles, all by Serkan Yürekli.