Last Saturday finished another 6 week cycle of offerings from Grandmaster Puzzles. It also finished a rather busy 6 weeks of puzzle construction and testing, including three different puzzle championship rounds. Two of these have now been hosted (the US Sudoku Qualifying Test/Grand Prix Contest, and the US Puzzle Championship) and one will be a future surprise. This gives me reason to think a pause for some reflection and discussion about some of these puzzles would be a valuable use of the "gap" time before our next spurt of new puzzles and possibly new genres begins. [It also gives me a chance to hopefully address some server issues.]
The USPC is one of the few championships that follows the World Puzzle Federation's model of puzzle balance including observational puzzles, word manipulation puzzles, and often some "trick" puzzles alongside a mix of classic constraint satisfaction types and variants. I figured — given existing contributors — that I would be most called upon to make some innovative word and observational puzzles alongside some original (read: previously unseen) variants that would hold new surprises for all solvers. The first puzzle I wanted to highlight is one that is meant to be recognizable and friendly to even the casual solver: the USPC Word Search.
I had a few ideas in mind this year for creating an interesting word search, and settled on a variety rebus gimmick where entries may or may not contain a shortened set of characters in a single square. Having previously used digit word phrases for a Sudoku Masterpieces puzzle (Some Err1ous Spelling!) and having much of that research on hand, I took my time getting a good interlinked set of "Digi2rds" together for the USPC puzzle. The missing middle shaped like an octothorpe was another goal I had in mind to give the puzzle some character. I also laid some traps around the middle for solvers trying to intuit words too soon. While many solvers will turn their noses up at a word search, I still see great value in having such puzzle styles represented on a puzzle championship. I hope I managed to give an intriguing challenge with the puzzle below.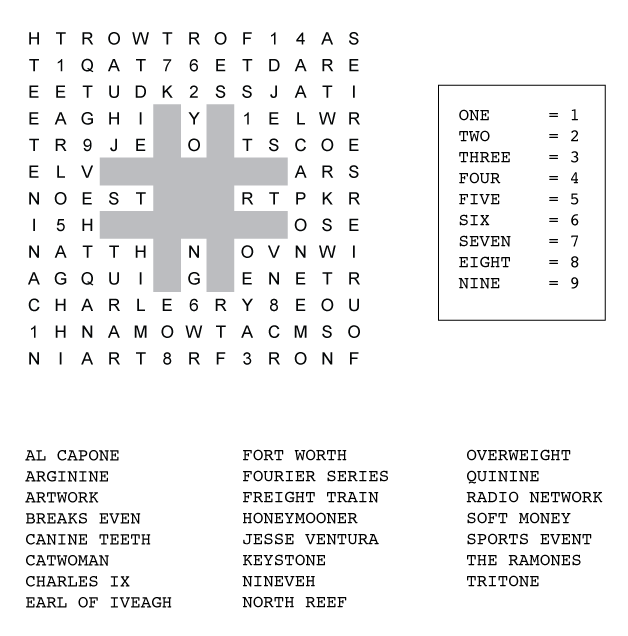 or solve online (using our beta test of Penpa-Edit tools; use tab mode to shift between line drawing, letter/number entry, and shading modes)
Theme: Hidden Numbers
Rules: Standard Word Search rules. Also, a digit may be used in place of its letters when spelled out. For example, "DIGIT WORD SEARCH" might appear in the grid as "DIGI2RDSEARCH". 25 characters are missing from the grid and must be identified to complete the puzzle.
Answer String: For the USPC, the answer string was the 25 missing characters in order. For this week, you can just hit the solved button on an honor system if you think you've solved it.
Solution: PDF