[This is a repost from our archives with new notes at the top: The final Nurikabe (original post) of week two was one of our "best of" puzzles in our launch year 2013, with an interesting visual clock theme and again a different kind of use of wide open white spaces for that unexpected number (if it was going to be anything, it had to be a 13! There might come a time you might need a clock that can point at that).]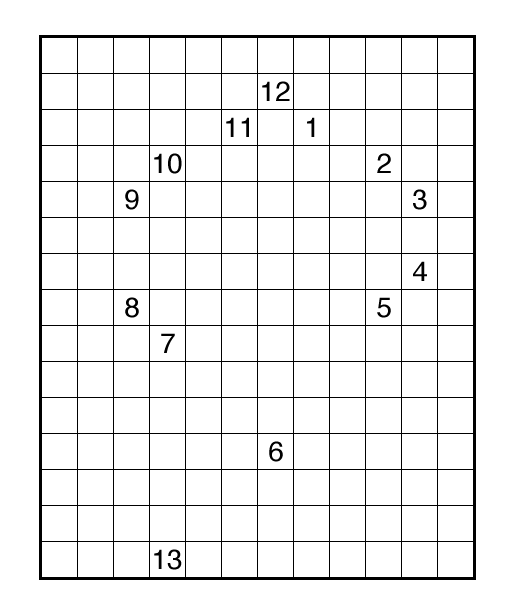 or solve online (using our beta test of Penpa-Edit tools)
Theme: Nurikabe Time; don't wait for the 13th hour to figure out where all the clock islands go.
Rules: Standard Nurikabe rules.
Estimated Difficulty*: 3 stars
Time Standards (highlight to view): Grandmaster = 2:00, Master = 5:00, Expert = 10:00
Solution: PDF
Note: Follow this link for classic Nurikabe and this link for Nurikabe variations. If you are new to this puzzle type, here are our easiest Nurikabe puzzles to get started on. More Nurikabe puzzles can be in The Art of Puzzles, in our beginner-friendly book Logic Puzzles 101, and in the e-book Nurikabe by Ashish Kumar.