This week we are sharing easy sample puzzles from our ebook The Puzzlemasters' Workshop which showcases six authors exploring new puzzle styles or variations with 8-10 challenges in each section. Today's post is Mirror Universe.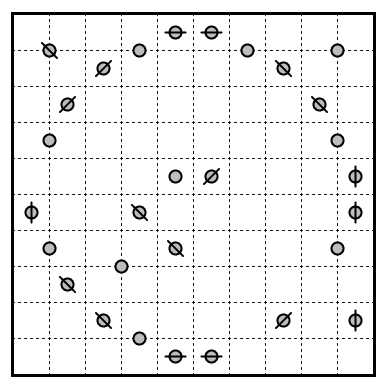 or solve online (using our beta test of Penpa-Edit tools; use tab to alternate between an edge mode, a line mode, and a shading mode.)
Theme: Circle
Background: Variation of the region division puzzle Spiral Galaxies, with new clues indicating galaxies with mirror symmetry. This variation was created by Carl Worth.
Rules: Divide the grid along the indicated lines into connected regions – "galaxies" – so that every cell is part of one galaxy and every galaxy has one circle clue inside it. If the galaxy contains a plain circle without any lines, the galaxy must be rotationally symmetric with that circle being the center of rotational symmetry. If the galaxy contains a circle with a horizontal, vertical, or diagonal line, the galaxy must have mirror symmetry when reflecting across the line given in the circle.
Example by Carl Worth: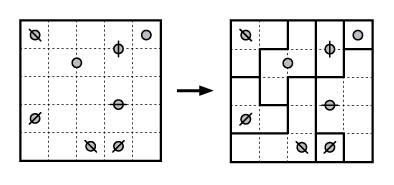 (No official times or solution entry for this week; just click "SOLVE?" when finished.)
Solution: Last page of PDF
Note: More Mirror Universe puzzles can be found in The Puzzlemasters' Workshop.