Here are our best Object Placement puzzles of 2017, selected from the 17 posts over the year. While this style did not feature as often as others in 2017, it includes our runaway vote winner for Puzzle of the Year.
One of the best object placement puzzles of this year was a gem that only our patrons got to see. Murat Can Tonta, practicing the art of Statue Park, made a memorable antisymmetric puzzle. If you want to see all our web puzzles, subscribe to GMPuzzles.
This Battleships by Thomas Snyder was not necessarily meant to have a long shelf life — it was constructed for one specific day — but our solvers enjoyed it and gave it several FAVEs to make the top list.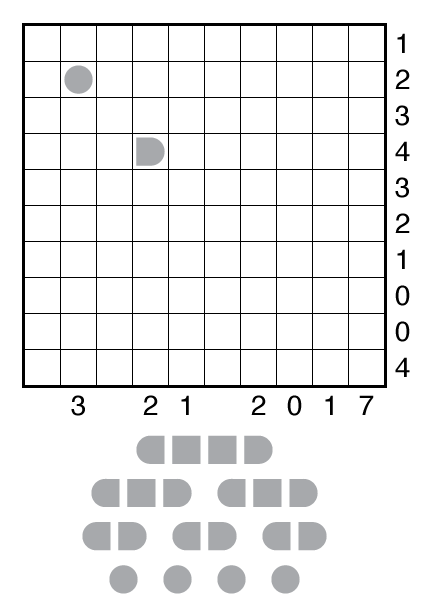 The best Object Placement puzzle of the year, and also the overall Best Puzzle of the year, goes to this Star Battle by Thomas Snyder, originally for the US Puzzle Grand Prix that Dr. Sudoku authored. The frame in the grid leads to a fun logical solving path in a medium-difficulty puzzle.