[This is a repost from our archives with new notes at the top (original post here): A good sudoku variant adds a small amount of new thinking on top of the basic Sudoku (three-way no repeat) rule; Arrow Sudoku fits that description perfectly with a few arithmetic deductions added on top of standard sudoku, and the potential for graphically interesting themes. This Arrow Sudoku puzzle should break apart easily once the "new" Arrow rule is properly considered.]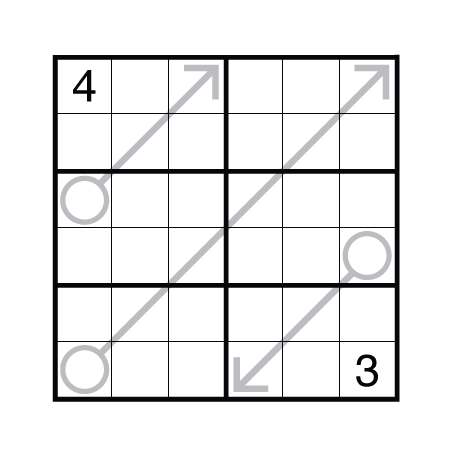 or solve online (using our beta test of Penpa-Edit tools)
Theme: Diagonals (two more than yesterday!)
Rules: Standard Arrow Sudoku rules. Range is 1-6.
Estimated Difficulty*: 1 star
Time Standards (highlight to view): Grandmaster = 0:40, Master = 1:15, Expert = 2:30
Solution: PDF
Note: Follow this link for more Arrow Sudoku. If you are new to this puzzle type, here are our easiest Arrow Sudoku to get started on. More Arrow Sudoku puzzles can be found in The Art of Sudoku 2 and Masterpiece Sudoku Mix 3.