This style, whose name means "Triangular Numbers" in English and has also been called "Four Directions Loop" elsewhere, was originally created by the Indian team that organized the 2017 World Puzzle Championship as part of an instructionless team round. More Mukkonn Enn will be in our upcoming Loop Variety Collection 2.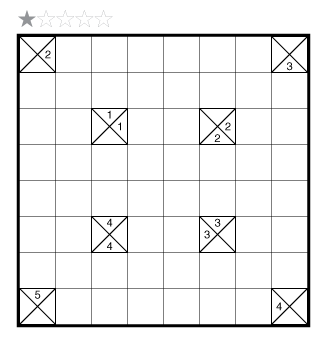 or solve online (using our beta test of Penpa-Edit tools in default linex mode where left-click+drag draws line and right click marks X's)
Theme: Sequences
Author/Opus: This is the 386th puzzle from our managing editor Serkan Yürekli.
Rules: Draw a single, non-intersecting loop that passes through the center of all cells, including clue cells; the loop may either go straight through or turn at each clue. Each clue cell is divided into four sections; if a number is present in a section and the loop travels in that direction, then the number represents the length of the straight loop segment in that direction, measured from the clue cell to the cell where the loop turns. If the loop does not travel in that direction, then the number means nothing.
Also see this example: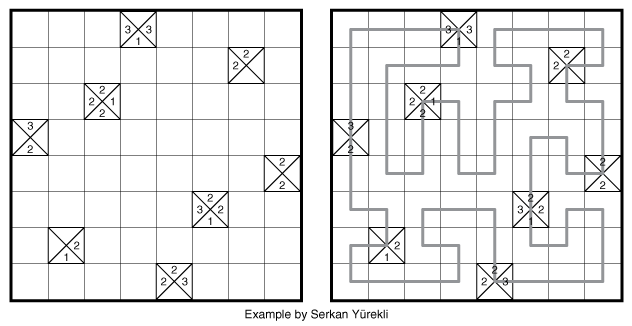 Difficulty: 1 star
Time Standards (highlight to view): Grandmaster = 0:45, Master = 1:00, Expert = 2:00
Solution: PDF and solving video.
Note: Follow this link for other Loop/Path puzzles. More Mukkonn Enn puzzles are in the book Loop Variety Collection 2.