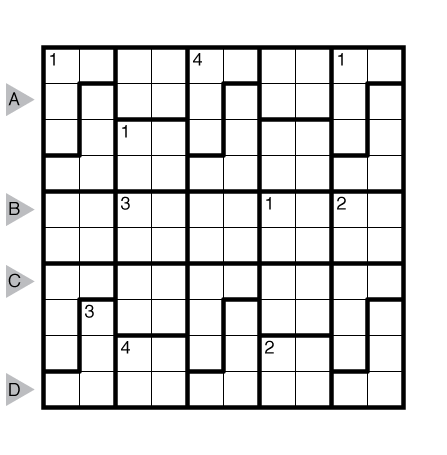 Theme: Clue Symmetry & Logic (for TheSubro)
Author/Opus: This is the 239th puzzle from our contributing puzzlemaster Grant Fikes.
Rules: Draw a single non-intersecting loop in the grid that enters and exits each bold region exactly once. If a number clue is given in a region, that number indicates the exact number of cells used by the loop in the region. Unused cells cannot be orthogonally adjacent across different regions.
Answer String: Enter the length in cells of the horizontal loop segments from left to right in the marked rows, starting at the top. If the loop only has vertical segments in the marked row, enter 0. Separate each row's entry with a comma.
Time Standards (highlight to view): Grandmaster = 1:45, Master = 2:45, Expert = 5:30
Note: Follow this link for other less common Loop variations.