There was a seventh puzzle posted this week for Murat's debut. Have you found it yet?

In creating a contributor icon for Murat, we decided to animate an anagram over one of his puzzles. That puzzle, previously unpublished, is the bonus puzzle for this week. As hinted at in last week's schedule message with the words "across" and "link", this is a crosslink Masyu.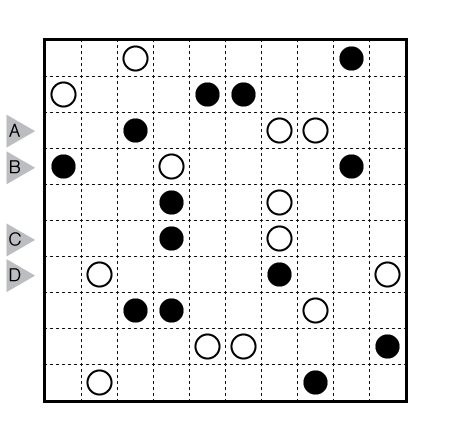 Theme: Antisymmetry
Author/Opus: This is the 26th puzzle from our contributing puzzlemaster Murat Can Tonta.
Rules: Variation of Masyu rules. The loop may pass through a cell twice, but only if the loop goes straight through that cell both times. The loop still cannot coincide anywhere except for these single cell crossings. If the loop passes through a white circle twice, then it must obey the normal rules by turning at one or both of the adjacent cells in the loop both times. (Implicitly, the loop cannot pass through a black circle twice as that would require passing straight through a black circle which is not allowed.)
Answer String: Enter the length in cells of the horizontal loop segments from left to right in the marked rows, starting at the top. If the loop only has vertical segments in the marked row, enter 0. Separate each row's entry with a comma.
Time Standards (highlight to view): Grandmaster = 4:00, Master = 5:30, Expert = 11:00
Solution: PDF
Note: Follow this link for other Masyu variations and this link for classic Masyu. If you are new to this puzzle type, here are our easiest Masyu to get started on.