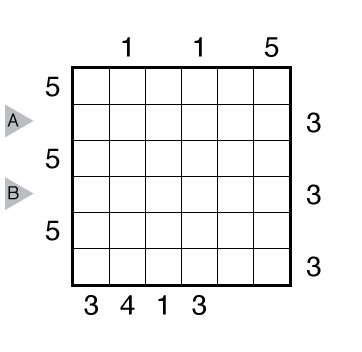 or solve online (using our beta test of Penpa-Edit tools)
Theme: Logical (inspired by a 2015 USPC puzzle by Craig Kasper)
Author/Opus: This is the 2nd puzzle from guest contributor Dan Katz.
Rules: Enter the digits 1, 3, 5, 7, 9 into the grid so that each digit (and one empty square) appears exactly once in each row and column. Numbers outside the grid are either Easy as ABC or Skyscraper clues: either the clue is the first digit that appears in the corresponding row or column from the direction of the clue, or it is the number of digits in the corresponding row or column that can be "seen" from that direction (higher digits block the view of lower digits).
Answer String: Enter the letters in the marked rows in order from left to right, separating each row's entry with a comma. Use a capital X for empty cells.
Time Standards (highlight to view): Grandmaster = 5:00, Master = 8:45, Expert = 17:30
Solution: PDF
Note 1: This puzzle is much harder than a usual Tuesday puzzle.
Note 2: Follow this link for other classic Skyscrapers and this link for variations on Skyscrapers puzzles. If you are new to this puzzle type, here are our easiest Skyscrapers to get started on.