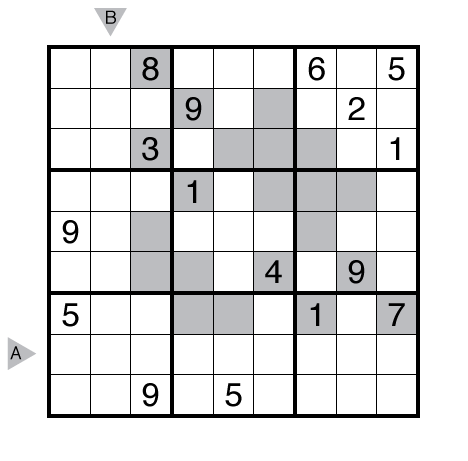 Theme: Sudoku GP Round 7 (this puzzle continues a hidden theme present throughout Prasanna's Sudoku Grand Prix set)
Author/Opus: This is the 41st puzzle from our contributing puzzlemaster Prasanna Seshadri.
Rules: Standard Sudoku rules. Additionally, all cells having the same digit(s) more than once as orthogonal neighbors are shaded. (If a cell is not shaded, it cannot have any digits repeated as orthogonal neighbors). Or see this example image.
Answer String: Enter the 8th row from left to right, followed by a comma, followed by the 2nd column from top to bottom.
Time Standards (highlight to view): Grandmaster = 9:00, Master = 17:30, Expert = 35:00
Solution: PDF; a solution video is available here.
Note: Follow this link for other less common variations of Sudoku and this link for classic Sudoku. If you are new to this puzzle type, here are our easiest Sudoku to get started on.