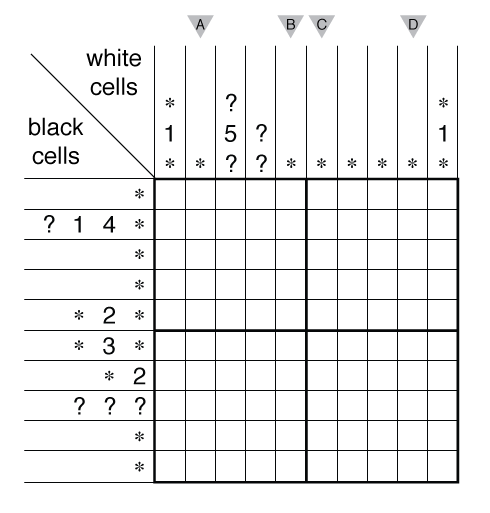 Theme: Logical
Author/Opus: This is the 119th puzzle from our contributing puzzlemaster Grant Fikes.
Rules: Double variations of Cross the Streams rules. First, both the shaded and the unshaded cells must be valid streams (single connected groups with no 2×2 areas). Second, while row clues act as usual and refer to shaded cells, the column clues refer to the distribution of white cells.
Answer String: Enter the length in cells of each of the black segments from left to right for the marked rows and from top to bottom for the marked columns in the two grids, going in order from A to B to C to D and separating each entry with a comma.
Time Standards (highlight to view): Grandmaster = 5:00, Master = 11:00, Expert = 22:00.
Solution: PDF; a solution video is available here.
Note: Follow this link for variations of Cross the Streams and this link for other classic Cross the Streams. If you are new to this puzzle type, here are our easiest Cross the Streams to get started on.