0 Flares
Made with Flare

More Info

'>
0 Flares
×
Editor's Note: While our Sunday Surprises are meant to be unexpected, today's surprise should be a double surprise for you. Besides the bonus puzzle, it is my great pleasure to announce that one of the world's best puzzlemakers and the inventor of Tapa, Serkan Yürekli, is joining us as a regular contributor. (If you haven't yet, you should check out his Tapa Variation Contests that are starting again this weekend and his Classic Tapa Contest that starts next week.)
I asked Serkan, for his debut week, to provide some of the puzzle styles I know him best for and I hope you will enjoy what is in store. Today brings a "The Persistence of Memory" puzzle that Serkan wrote with GMPuzzles in mind.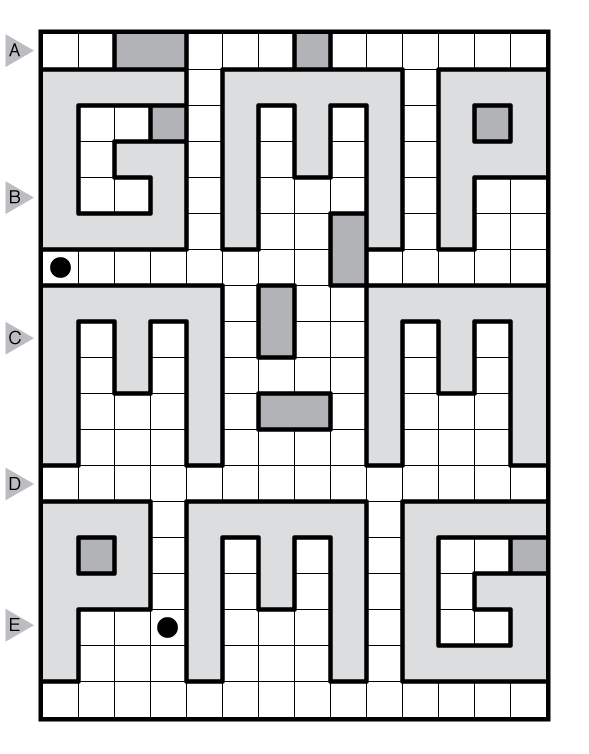 (View image directly for larger form.)
(PNG with extra lines for solvers who want to flood-fill the path)
Theme: GMPuzzles
Rules: Find a path from one dot to the other by moving horizontally or vertically between adjacent squares. The path cannot touch itself, even diagonally. All highlighted regions must be used, and may be re-entered. If two or more highlighted regions have the same shape and orientation, then how the path passes through those shapes must be identical. Or see here.
Answer String: For each marked row, enter the size of each group of cells used by the path from left to right. Separate each row with a comma.
Time Standards (highlight to view): Grandmaster = 7:30, Master = 10:30, Expert = 21:00