To [guess], or not to [guess], that is the question:
Whether 'tis Nobler in the mind to suffer
The [Twists] and [the Turns] of outrageous [Logic],
Or to take Arms against a Sea of troubles,
And by [guessing] end them….
We've had a fair number of lively discussions in the last week, and if nothing else has come out of them at least the comment threading on the site is now noticeably improved. One question that has come up a lot has been around which puzzles need guesswork, here and elsewhere. A lot of solvers, for the sake of speed perhaps, will say they "had to bifurcate" during a solve here, but that has never been required for our puzzles. This week I wanted to (briefly) state my opinions on what I consider to be "logical" puzzles, since I mention frequently that all puzzles will have a single solution that can be reached by logic alone and it is worth contributors and solvers knowing what I mean by that.
My background is in experimental science, so my answer is going to be a practical one: When I can solve a puzzle in ink, without erasures, with all deductions either positive or negative coming from visualization in my head and not making scratch-work on the paper, the puzzle is solvable by logic.
That's it. While a mathematical argument may talk about how some steps come about as an indirect proof (consider situation A; if so then B and C but C is not possible for other reasons, so not A) and most indirect proofs are indeed a trial-and-error process, this is allowed within the "pen" definition if I can keep the entire trial in my head to see the result. On the other hand, when the necessary trials are particularly involved, and I can only make it to the finish by using a branched search with underlined numbers or different colors or eventually lots of erasing, and certainly when I can reach a solution and not know it is the only one, that puzzle requires guesswork. The pen versus pencil test is the one I always have in mind.
So my standard is an organic one, unfortunately tied to my abilities as a solver and therefore hard to codify, except most experienced solvers will be able to see the same moves I can and there will be general agreement on what is logical. This standard is the right one for me as a puzzle publisher because it is tied to my solvers' expected experience with the puzzles and what will seem "fair."
But there is a broader discussion that often gets entangled with the first, practical one. Which is "do we know enough heuristics of any type to solve this particular puzzle logically?" The deepest knowledge base is certainly in sudoku, and a lot of well-annotated solution software is out there such as the SudokuWiki solver. Last I checked, somewhere around 0.5% of all randomly generated minimal sudoku will not be solvable by SudokuWiki using any of the steps it lists (and you must remove all the uniqueness rectangle steps when running this test as you are doing logical steps, not meta-logical steps). Some people might hope to discover new tricks, such as with entangled threads or new combinations of strong and weak links or other group theoretic constructs to further "solve" the sudoku problem. So that 0.1% or 0.01% or eventually 0% of sudoku remain "unsolvable." As a puzzler, I am completely uninterested. Let me explain:
Despite all the steps listed on SudokuWiki, many of them are exclusively computation-friendly steps. Many of them are searches that are functionally so deep or across such a large search space that a human will not practically ever find them. I'm much more interested in how Kasparov plays chess than Deep Blue, even if the question of solving the game of chess so White always wins will be done by the latter. Computers solving chess will not fundamentally change how humans (using just their brains) will play the game. Similarly, there will be no set of deductions that will make all sudoku be solvable by me as a human. The number of "fair" puzzles is probably just 90% of all randomly generated minimal puzzles, maybe even less.
To me, no heuristic in orange or below on the SudokuWiki solver is a proper step to include in a puzzle given to a human solver. And only some of the yellow steps, when presented in the right context, are good. "Simple Colouring" is probably the worst of these as it is very much an "eliminate candidates by holding two guesses in your head" kind of process. And oftentimes when colouring works, the reason to choose that particular number and those two particular branches is not a natural one. I'd keep X-wings and swordfish and place the Y-wing on the edge as the line beyond which my sudoku puzzles will not cross. And when I do include them, I mean to have them stand out as proud examples of the step that fit organically into the solve and not just as something that happens to resolve the last 15 digits where most solvers will lack the patience and randomly guess.
This was effectively the starting picture I wanted solvers to get to on Saturday's puzzle: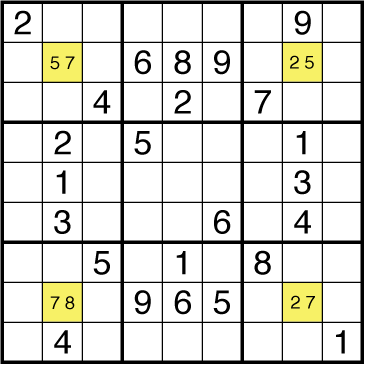 Sure, there are 5 digits that can be gotten more easily. And then a few pairs to identify. But fundamentally this puzzle was constructed to have a Y-wing required early in a telegraphed place – the four symmetric bi-value cells in yellow. The original grid shape was going to be a big circle with a slash in it: A visual "Do Not Guess" warning. But to get to one solution it took some tweaking from the original theme.
If you've never reasoned out before why a 7 cannot go into R8C2, this may feel like guesswork. The Y-wing step, while mathematically solid in a sudoku language of strong and weak links, feels like guesswork until you get used to seeing it. The Y-wing is where I draw the line. And when the World Sudoku Championships pushed the envelope far past this line, making me and all other solvers have to guess instead of think to win championships, I stopped having interest in competing at the WSC. I had to not just be sure to use pencil, but also bring extra erasers, and this is not the experience I would be having if the clock weren't involved.
So while my solvers may frequently say they guessed on a puzzle — even I would if I were solving some of these at a competition — none of the puzzles we post here will require you to guess, at least in writing. You may need to do a little mental trial-and-error to figure out the next step forward, but that is all. Just as on Friday's Tapa, the eliminations such as those around the "5 1" clue on the left, can be comfortably done without looking too far forward if you know to look for them at all. This doesn't mean our puzzles can't be very hard. It just means you should be able, without the clock in mind, to engage in a fair fight with the puzzle and however long it takes feel victorious at the end. This total victory over the puzzle is the joy that comes from persevering through a hard battle. And it cannot be offered if you need to guess and can't be sure you've won.