There is no Doctor's Note this week.
Seventh in a series with puzzle solving tips. This time with advice on exploring unusual puzzle geometries such as the Saturday Sudo-Kurve.
When you've solved enough 3d Sudoku or Sudo-Kurve puzzles or other unique geometries (as in Sudoku Masterpieces), you've probably recognized there are sometimes cells or sets of cells that are much more constrained than others in the construction. This Sudo-Kurve grid, which I used in Sudoku Cup 3 and only one other time since, has some secrets to observe before getting too deep into any puzzle.
The most interesting cells to me are those that seem to eliminate 6 cells in a neighboring box, forming their own "pointing pair" with just one number. There are 24 of these cells in the grid, but the ones in the corner boxes are the best. Consider the cell in orange.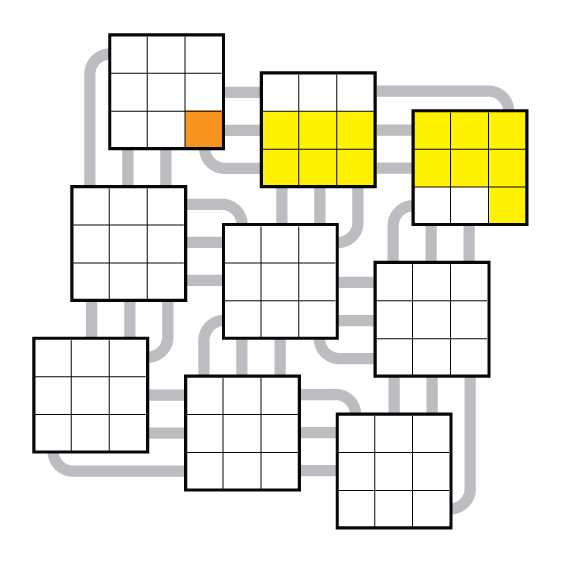 It eliminates all the cells in yellow in the second box (so the number is in the white cells up top). Consequently In the upper-right corner, there are only two places where the number in orange can go.
Consider this second case of the cell just above the first.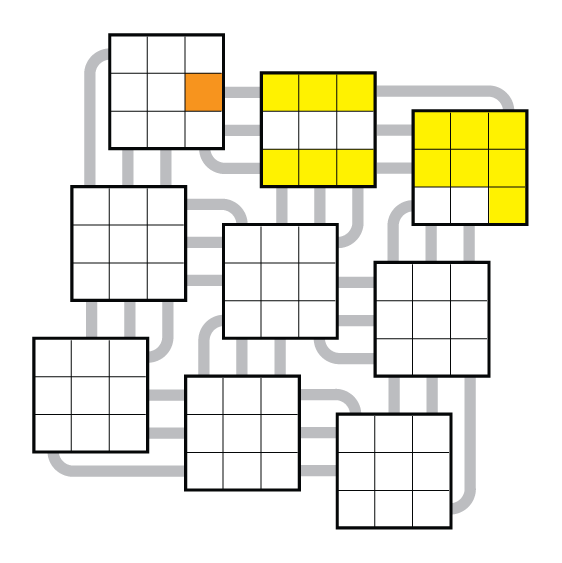 Again, there are just two cells left in the upper-right corner for that number to appear, and these are the same two cells as in the first example. So the "pointing pair" cells are themselves a pair. And since the grid is fully symmetric, there are four instances of this pair and four instances of another kind of pair (in blue). And spotting this fact makes breaking into the puzzle much faster.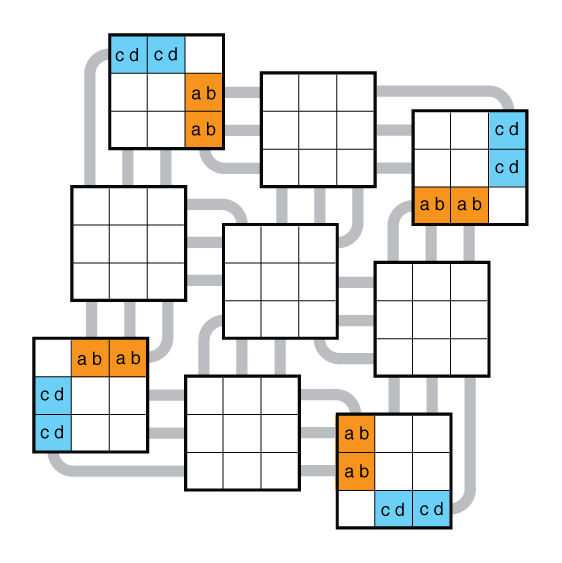 Let's map these pairs onto the original grid. There is a 1 in blue and a 3 in orange, and from the other numbers in those boxes we can tell that the other digit in blue or orange can only come from 456 (as 2 and 789 are not in colored cells in the corners). Looking at the possibilities in orange shows 3 and 5 must go together as 4 and 6 are impossible. With just 4 and 6 left in blue, that the 4 in the top-middle eliminates the blue cell in the upper-right means 1 and 6 are the other pair. And learning the geometry of the grid quickly gets you to this state.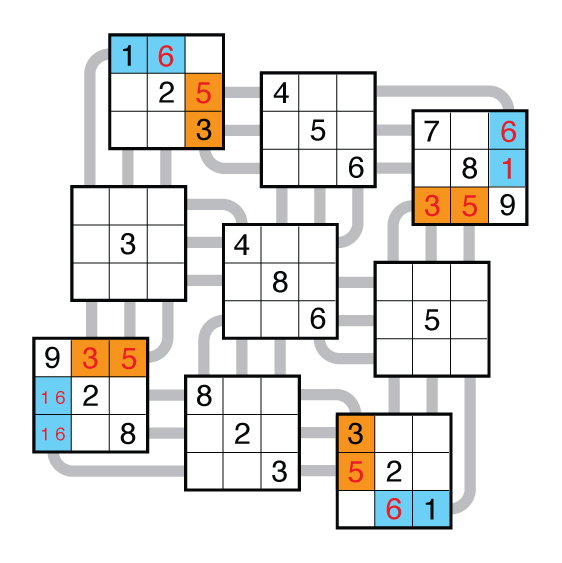 There is still work to be done, and this geometry will twist your mind when you try to place numbers. But considering the unique properties of the grid can get you a head-start. And as a constructor, if you don't recognize these constraints, you can never make a valid puzzle. My first step with a new grid is often just to fill it in with any valid solution, and then learn from examining that solution if there are unexpected constraints present.