Second in a series with puzzle solving tips. This time, Nurikabe solving tips for last Friday's puzzle.
A few simple Nurikabe rules will get you through most of the puzzles quite fast; but some of these rules are uncommon enough that you mainly learn them from solving rare puzzles like ours.

"Basic" Nurikabe steps get you to here (ocean in black, new island info in green). At this state there are two different visual cues that the upper-right is problematic. First, there is a wide open space that needs an island (in blue) and only one island can reach over there. Separately, because the 12 and 3 islands now touch the walls, the ocean in the upper-right is set to be cut off entirely. So the 2 island is not as free as it might seem (red). Noticing either will get you to the next steps, but getting good at seeing both will make you a Nurikabe Expert.
Nurikabe puzzles often involve gradually filling out 1-wide snaking islands and oceans and the whole left side of the puzzle flows out like this once you try to fill in the 10 island and see it runs out of room from colliding into the 8 and possibly isolating ocean. So the rest of the 10 goes up to the top and the 8 goes left and down with a 1-wide ocean on the border wrapping around it. You'll see the same for the 7 and 9 and 11 next to it.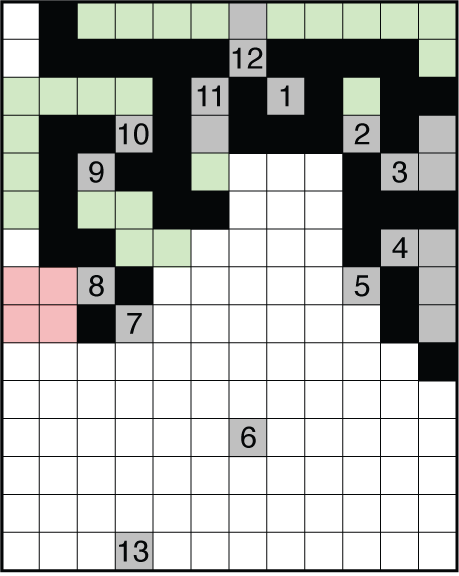 More of the same gets you to the "hard" ending, with a fairly open bottom and nothing immediately touching for the next steps.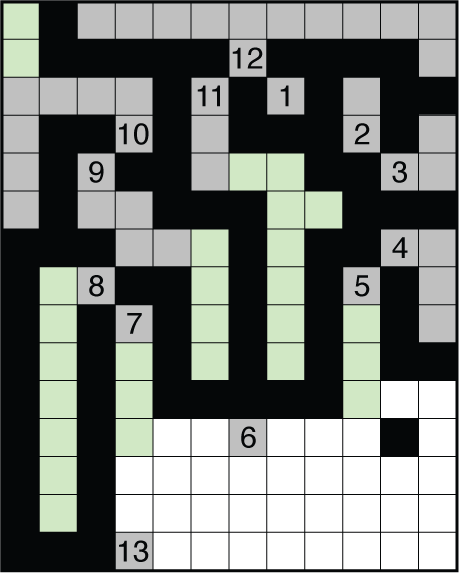 The 7 is easiest to resolve, and what is marked in green should have come logically. Finishing the 6 and 13 might not come as fast. One hard first step is to realize the 5 finishes to the right and not down. Hypothesis testing can take care of things like this, but slowly. For speed solving I often go into what I call "be greedy" mode where I take properties of unique puzzles and apply them to other settings. In this Nurikabe, the 6 and 13 feel like a "max" fill – the largest possible number of island cells that can occur in this puzzle. So you try to "be greedy" and simply make a very efficient fill and run head-on into the answer.
Here, as the start to a "be greedy" path, if there is a "max" fill then there can be no water on the bottom edge or the right edge up to where I stop shading in red. Once you place those 11 cells in, the other parts of the 6 and 13 and 5 should be much quicker. But feel free to try to logically prove it too. Forming rectangular shapes often maximizes the # of island cells, so you can work your proof around this packing concept.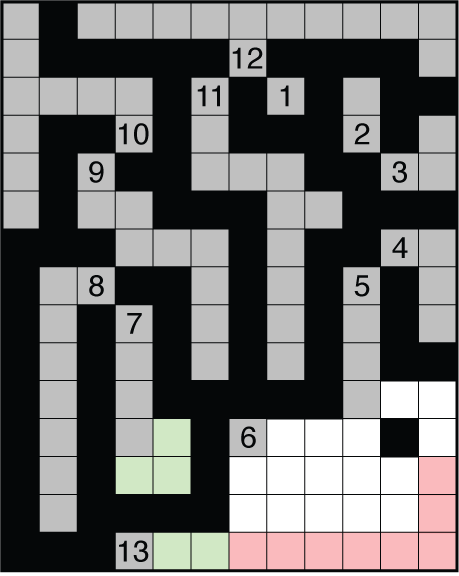 This was a more standard Nurikabe when you get down to it, but the concepts of finding isolated oceans, or places only one island can reach, will be useful to master. And getting a feel for "be greedy" in all its forms (and it can be dangerous both to the puzzle but also to you if you make mistakes using it) will get you solving quite fast. Its close to uniqueness, but even more open to creative applications. Getting good at tweaking near solutions is a must when you go with "be greedy", and I only learned to tweak very well from constructing puzzles where you have to do this all the time to just get 1 answer for your solvers.