The next Loop/Path puzzle, reflecting an unusual grid geometry round, is this "Trophy" Slitherlink by Serkan Yürekli. Can you figure out how all the unusual parts of the grid will mark the 30th World Puzzle Championship.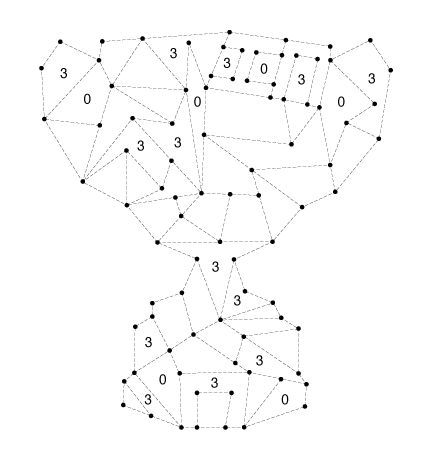 Author/Opus: This is the 415th puzzle from our managing editor Serkan Yürekli.
Rules: Variation of Slitherlink rules. Draw a single, non-intersecting loop on an irregular grid that can only follow the lines between the dots. Numbers inside a cell indicate how many of the edges of that cell are part of the loop.
Estimated Difficulty: 2 stars
Solution: PDF for all Loop/Path playoff puzzles.
Note: Follow this link for other classic Slitherlink. If you are new to this puzzle type, here are our easiest Slitherlink puzzles to get started on. More Slitherlink puzzles can be found in our books The Art of Puzzles and Slitherlink and Variations.