[This is a repost from our archives with new notes at the top (original post here): Star Battle, which was originally designed by Hans Eendebak for the 2003 World Puzzle Championship, is one of our favorite object placement styles. The region constraints and no touching constraints lead to a lot of different logic. While there are computer-generated versions of this style in major newspapers now, the hand-crafted themes and logical flows of this puzzle are what we look for with any Grandmaster Star Battle.]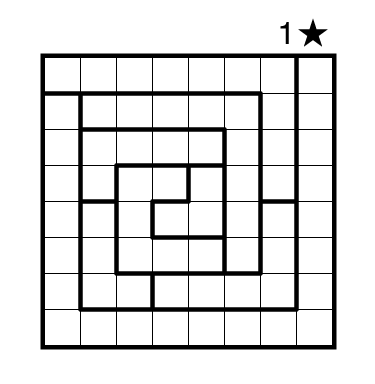 or solve online (using our beta test of Penpa-Edit tools)
Theme: Downward Spiral
Rules: Standard Star Battle rules. One star per row, column, and region.
Estimated Difficulty*: 1.5 stars
Time Standards (highlight to view): Grandmaster = 0:45, Master = 1:15, Expert = 2:30
Solution: PDF
Note 2: Follow this link for other classic Star Battles and this link for Star Battle variations. If you are new to this puzzle type, here are our easiest Star Battles to get started on. More Star Battle puzzles can be found in The Art of Puzzles, in the books Star Battle and Star Battle 2, and in our beginner-friendly collection Intro to GMPuzzles by Serkan Yürekli.