Theme: TWENTY-15 (Originally on 2015 Indian Puzzle Championship)
Author/Opus: This is the 95th puzzle from our contributing puzzlemaster Prasanna Seshadri.
Rules: Fill some empty cells with the letters E, N, T, W, Y (A, B, C, D, E in the example) so that each row and column contains each letter exactly once. Also, each bold outlined region as well as the set of gray cells contains each letter exactly once. Some cells will remain blank. The clues outside the grid, which contain a letter 'X' and a number 'N', indicate that X is the Nth letter seen in that row or column.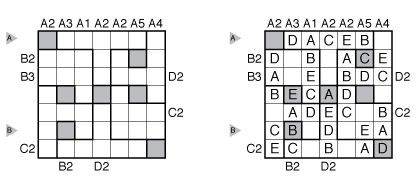 Answer String: Enter the letters in the marked rows in order from left to right, separating each row's entry with a comma. Use an X for empty cells, and USE CAPITAL LETTERS. This example has the key "XDACEBX,CBXDXEA".
Time Standards (highlight to view): Grandmaster = 3:45, Master = 5:15, Expert = 10:30
Note: Follow this link for other less common number placement variations.