While I still want to find a good name for this variation of TomTom (Tight Fit TomTom matches the genesis story well but is probably not the best name for longevity), it was a style idea that strongly encouraged me to write for the USPC this year as it seemed a great place to debut it.
The idea actually came from Craig Kasper during a discussion of puzzle styles and possible variations. Craig didn't think he could do it justice, but he offered it to me and I knew instantly it was a great concept to save for the future — with the USPC as the obvious first destination if it could work. I wrote two Tom/Tom puzzles (also probably not the best name — maybe in the comments people can recommend others?). The first was an easy one (10 pointer?) that became the example. The second was a tougher puzzle that has been called undervalued for 20 points by most people commenting on it. Perhaps the break-ins were not as easy to find?
The biggest struggle with the style was how to format it well; you'll find that both of these puzzles use slashes in cells that would not normally contain the clue digit to leave more space in the fractional cells for writing numbers. Palmer's pre-USPC example uses shaded cells and this might be a more productive route going forward. I have plans to make a bunch of TomTom variety books/puzzle packs focused on different math concepts and will probably make one around this variation when I get some larger tasks off my plate. Removing some of the extra trickiness of these samples and having simpler fractional values and even fractional clue targets should make this a good extension of TomTom puzzles for education purposes. I can even turn single cell cages into non-trivial entries!
I hope you enjoyed this variation as much as I enjoyed making it work.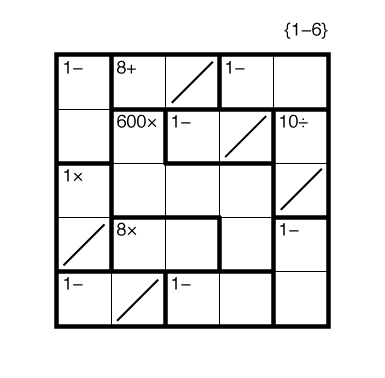 or solve online (using our beta test of Penpa-Edit tools; use tab to alternate between "big" sudoku and "small" number entry modes.)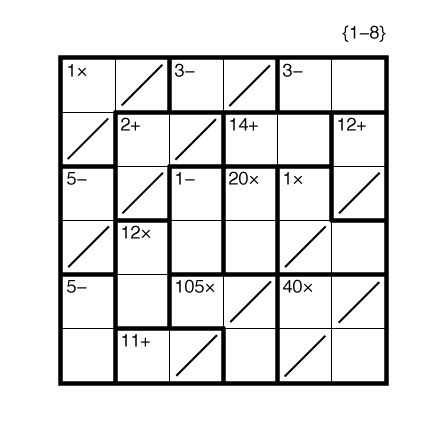 or solve online (using our beta test of Penpa-Edit tools; use tab to alternate between "big" sudoku and "small" number entry modes.)
Theme: Cage geometries, and the logic of the solve and new fraction rules primarily
Rules: Variation of standard TomTom rules. The indicated ranges are larger than N x N (1-6 and 1-8 respectively), and some cells containing slashes require two digits to be placed. These cells should be treated as fractional values (top value over bottom value) for the purposes of solving the puzzle.
Answer String: For the USPC, the answer string was the 5th row and 5th column of the larger puzzle. For this week, you can just hit the solved button on an honor system if you think you've solved it.