0 Flares
Made with Flare

More Info

'>
0 Flares
×
I'm sure many of you were expecting ANOTHER version of the Christmas Tree puzzle from the last two weeks. I mean, I did get a very nice Double Back from Robert Vollmert (which cannot be confused as a Star Battle or a LITS). But posting such a puzzle wouldn't be a surprise.
No, today's Sunday Surprise comes from the pile of submissions I've received over the year from Hans van Stippent, who played with the usual rules of Skyscrapers a bit by hiding some of the cells from consideration. It yielded a very interesting puzzle which is Hans' gift to you this Sunday.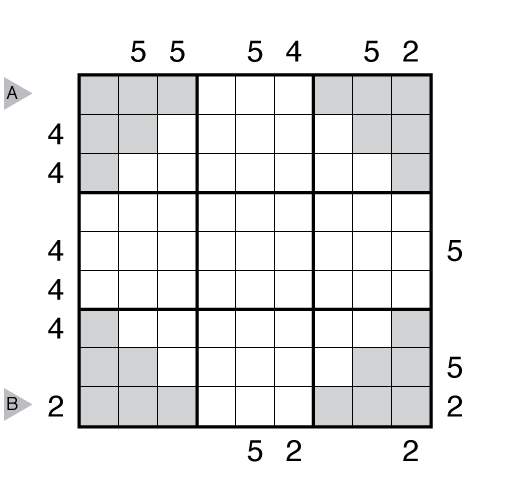 Theme: New Variation/Logic
Rules: Standard Sudoku rules. Also, standard Skyscrapers rules. Additionally, the cells in grey are "underground" and cannot be seen for any of the outside skyscraper clues (think of them as starting with a negative sign if necessary). As an example, the 4 in row 2 refers only to seeing four buildings in columns 3 through 7, even if there is a 9 in column 1 or column 2 as that 9 cannot be seen.
Answer String: Enter the 1st row from left to right, followed by a comma, followed by the 9th row from left to right.